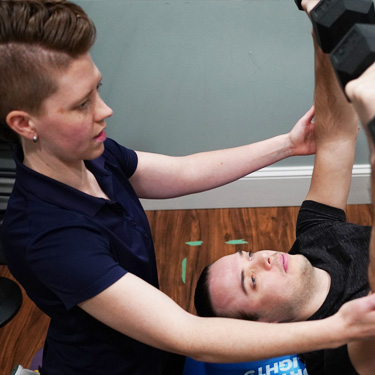 At our practice, we want the best for our patients, and in many cases, that means going beyond chiropractic and diving deep into what we can do to help you live your healthiest life by treating each patient holistically.
We're proud to have Ashley Howatt, a C.H.E.K. Institute certified Corrective Exercise specialist and Holistic Lifestyle Coach. Ashley helps clients via kinesiology or personal training sessions. A comprehensive approach is taken that considers all factors that may inhibit your results, including nutrition, water intake, quality of sleep, stress management, exercise and breathing.
Specialized, Focused Care
Ashley wants to help you make changes in your life for the long term. By adding kinesiology sessions to your chiropractic care you can feel confident that you will get better faster than chiropractic care alone. Personal training is a fantastic option for anyone ready to feel the best version of themselves. These sessions are very in depth; you will work on your dream, legacy and goals by learning your values around diet, rest, movement and happiness. Your mental, emotional, spiritual and physical health are all addressed. With many assessments and conversations, Ashley will meet you where you are at and progress you as you are ready. This is not your typical big box gym training. This is life changing, holistic coaching.
If you'd like to learn more about how Ashley can help you achieve your ultimate goals in health, please contact our practice today to learn more. We can't wait to help you live your best possible life!